Without you, we would not be able to fulfill the Bryant House mission "Bringing the Past Alive in the Present".  With your support, we are able to preserve the home and over 70,000 artifacts for future generations.
The Bryant House must raise funds each and every year to restore and maintain its building; conserve the original collections of furniture, decorative arts, and textiles; and host public education programs for adults and schoolchildren. We need your help.
Tax-deductible gifts — large and small — from individuals, foundations, and small businesses really do make a difference. We'd be honored to add you to our list of supporters. Your time and talent are valuable too. 
The Historic Bryant House is a 501(c)(3) and depends on donors like you. You can support this important work with a gift/memorial. Donations help to sustain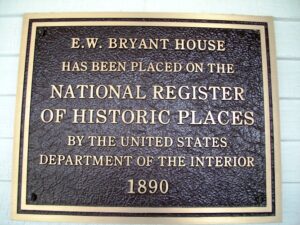 operations, support important preservation efforts, and make possible engaging education programs, exhibits, and events. All donations are tax deductible and go to the area of greatest need.
The Bryant House, built in 1890s, once was home to one of the city's founding families. Several years ago, the family donated the stately mansion to become a museum.
The house is one of a handful of sites in the city listed on the National Register of Historic Places. Although the house provides a snapshot of life in Tekamah during the Victorian age, the structure is showing its age. 
Donations can sent to the Historic Bryant House, P.O. Box 242, Tekamah, NE 68061.