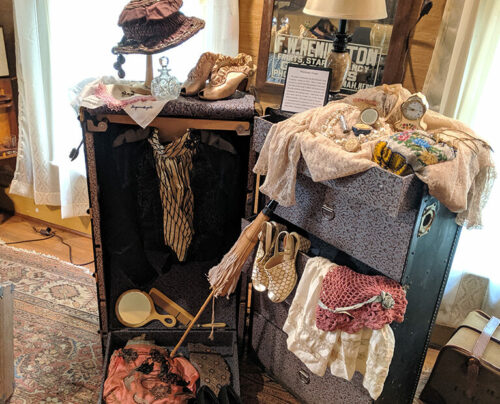 Did you ever have the opportunity to play in grandma's attic when you were growing up? Perhaps there was a large old trunk, tucked back under the eaves, quietly awaiting your exploration. Did your heart beat faster at the prospect of discovering what treasures might be hiding there?
That was most certainly my reaction when I first entered the attic at the Bryant House. Not only one, but several wonderful old trucks beaconed me to explore their contents. The first truck that caught my eye was a style I had not seen before. It looked to be the oldest, most fragile one of all.
Upon opening the lid I discovered a very well preserved label. A little detective work revealed the maker of the trunk, Nathan Neat, to be a well known trunk maker in Boston from at least 1825 to 1891. This style of trunk is referred to as a stagecoach trunk. It is covered in leather and decorated with brass studs. The interior is covered with a paper lining that remains in amazingly good condition. A small door in the lid would allow for expansion and extra storage room in the lid. So maybe our current luggage with expansion capabilities is not such a modern idea.
A label attached to the end of the trunk reveal the owner to be E.W. Bryant of Illinois. Mr. Bryant was born in Massachusetts, moved west to Illinois, then Iowa and finally settling in Tekamah in 1870. This wonderful trunk must have accompanied him on his journey west. The silent stories and adventures of those travels are forever locked away in the chest only for us to wonder about.
Whether moving across the county or across the world we need something in which to carry our belongings. The trunk manufacturing industry grew out of this necessity. Though American trunk making can be dated to the 1600's it flourished in the mid to late 1800's. Trunk making was a very competitive business during the 18th Century. Stage coach lines were established across America, and later, the construction of the railroad made travel easier and allowed people to move more easily from one place to another. As the modes of transportation evolved so did the size and shape of receptacles for our belongings.
At the start of the 20th Century long distance travel or tourism was mostly limited to the wealthy who could afford ocean liner voyages and the hired manpower needed to haul around giant steamer trunks. These large trunks could weigh as much as 100 pounds empty. Imagine traveling today with a trunk four times as your largest suitcase.
Another very interesting trunk to be found in the Bryant archives is a wardrobe trunk. These trunks were designed to stand on end for packing or open use. One half of the trunk is filled with drawers and the other half was clothes hangers, a shoe box, and sometimes an ironing board. The trunks were often used by students going away to boarding schools or college.
There are many styles and eras of luggage stored away at the Historic Bryant House from the stage coach trunk to Wheary luggage of the 1960s. They are great examples of how luggage has evolved and adapted to the needs of today's travelers. Many recent travels and treks through airports have certainly made me appreciate the wonderful addition of wheels on our current travel cases.
 I encourage you to stop by the Historic Bryant House this summer and check the trunks and luggage that are on display.