Fashion Show Through the Ages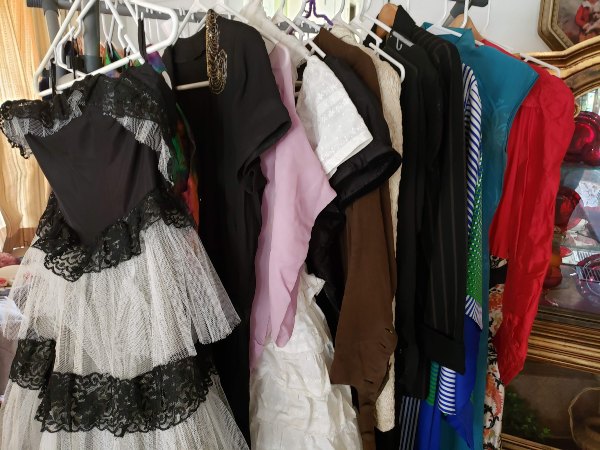 A wide array of fashions from the late 1800s to the 1950s was held September  18.  Thanks to all of our volunteer models and volunteers behind the scenes to help the models, nearly all of whom will be wearing more than one outfit.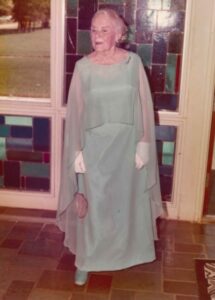 The same dress worn in this photo by Anne Bryant, was modeled during the fashion show. Proceeds from the event will  help to benefit restoration work at the Historic Bryant House.
More than a dozen models displayed over 30 dresses, all of which were owned by members of the Bryant family. Accessories such as jewelry, gloves, shoes and handbags will completed the ensembles.
Some of the items modeled included a waist length mink coat, a ball gown worn by Suzanne Bryant when she was an Ak-Sar-Ben countess in 1951, plus a variety of clothing ranging from formal to everyday wear.
A number of other clothing pieces which were deemed too fragile to wear also were on display during the event.
Featured below are just a few of our volunteer models.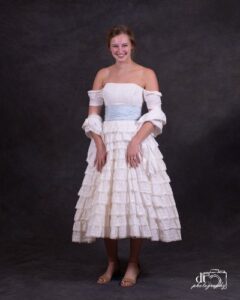 Taylor Hansen is wearing a vintage 1950's cotillion or prom dress. It is cotton dotted swiss and lace with square neck, layered skirt with boning in bodice and short sleeves. It also has a light blue cummerbund with taffeta underskirt and matching ruffled shawl.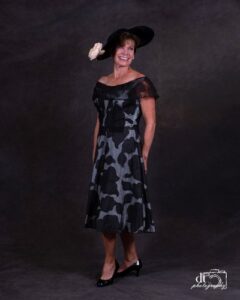 Kass Bromm is wearing a tea length evening dress with sweetheart neckline, flared skirt and black applique net over gray taffeta. The hat is labeled 'Lilly Dache NY & Paris. It has a wide brim trimmed with black velvet ribbon and large rose.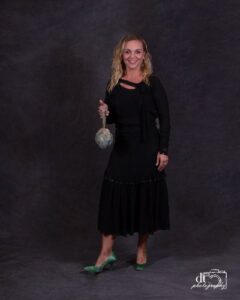 Sarah Freidel is wearing a 1940's elegant evening dress with asymmetrical key-hole neckline & sleeves. The dress has bead trimming, bow accents and deep pleated flounce for skirt. Sarah picked a silk floral brocade ball bag with wrist strap.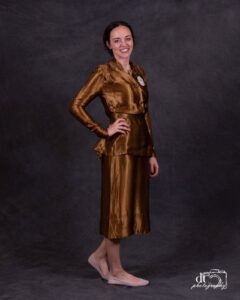 This is an Eisenberg Original worn by Danielle Krause.   It is a tobacco colored, exquisite full-length satin dress with long sleeves and detached peplum worn at waist.  Jonas Eisenberg designed stunning dresses for upper class women the the 1940's.  He would embellish the dresses with large rhinestone brooches as a way to attract buyers.  He discovered women were only buying the brooches or even stealing them so he began designing only jewelry